If you're visiting Rapha Tokyo there's a chance you'll bump into Gogo, but then again he could be anywhere in Japan with the Mobile Clubhouse Louison, managing, riding and serving coffee. He knows the city inside out, having spent many years as a Tokyo messenger and later organiser for various cycle events in the city, including the Tokyo CMWC in 2009.
At Groovisions - the duo's multifaceted design outfit - they have forged their own path since 1993, working with some of the world's best known brands, yet by their own admission still retaining a sense of innocence - uninfluenced by design trends.
How did you get your start in cycling?

When I started working as a messenger I became totally absorbed in bicycles and the community that surrounded them. I raced and hosted events with many different riders for more than twelve years, and during that time I rode mountain, road and track bikes. At races in Japan I also worked as part of Mavic's neutral support team which really strengthened my interest in racing, experiencing it from such a unique point of view. After I started working with Rapha I began watching races more seriously. The enjoyment of sharing the same experiences with friends through cycling, races and other bicycle events hasn't changed at all though. Cycling is definitely a constant feature in my life.

What's the one story from the history of cycling that we should know?

The first bike race in Japan was held in 1898 at Shinobazu No Ike in Tokyo, next to Ueno Park. Riders were wearing jerseys with advertisements from wealthy sponsors and newspaper companies, very similar to professional racing today. At this time Mitsubishi was leading the way in championing cycle racing in Japan and you could see races taking place along the streets of Tokyo. Unfortunately those days are over and there are no longer any races taking place in the centre of the city. There is a hope though that one day we will see racing return to the streets of Tokyo sometime in the future.

Who were the first people that you rode with? How did they influence you?

My messenger friends had a huge influence on me. I spent a lot of time both working and having a good time with them. Gradually I started taking part in messenger races and made a lot of friends all over the world. Later on I started organising races and events myself and people came from many different countries to join them.
What would you tell someone just starting out in the sport?

Be true to yourself and really get to know yourself. Share both the suffering and enjoyment with your friends.

Who is your cycling role model?

No role models, I respect all cyclists that love bicycles.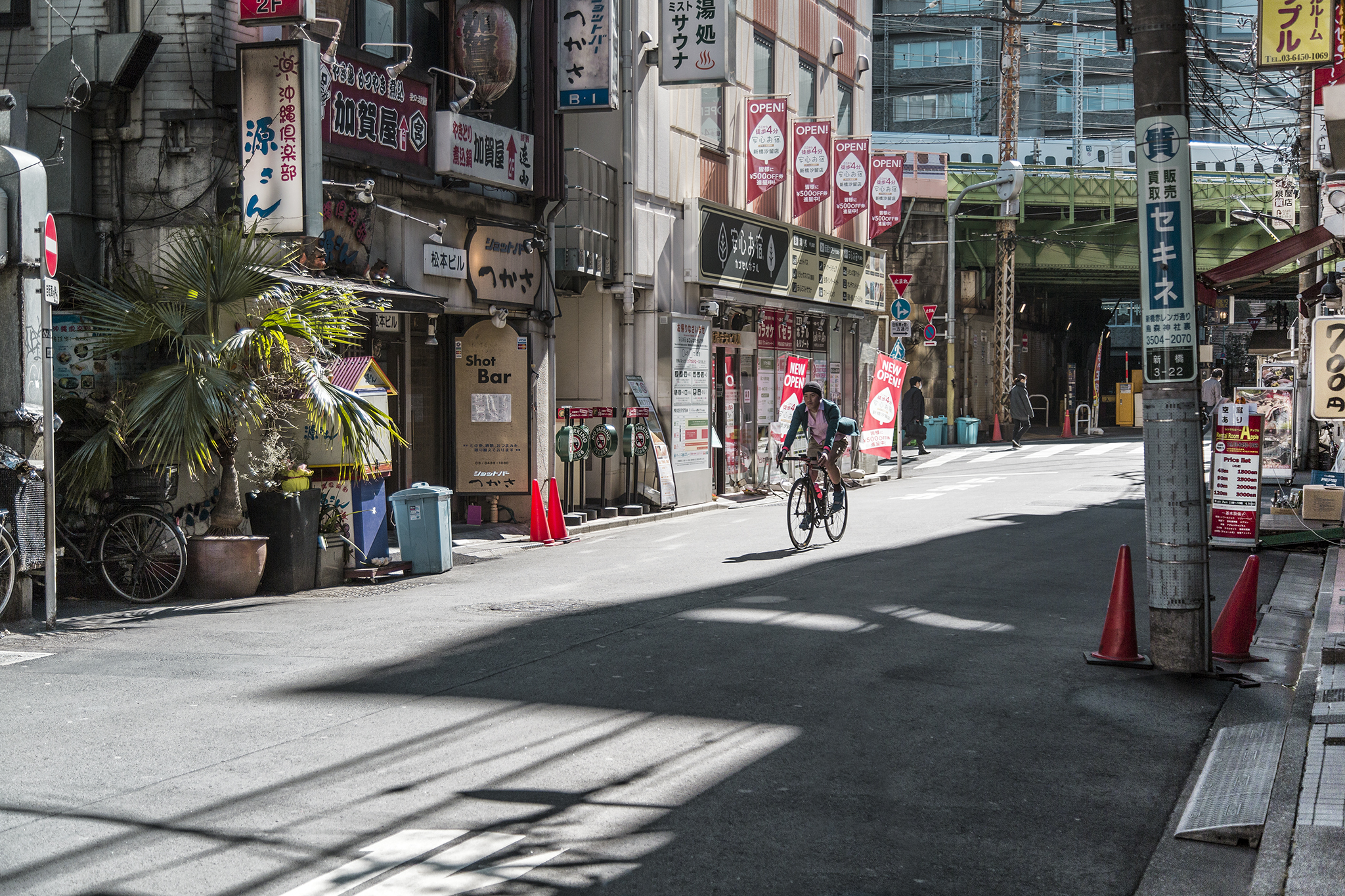 We're looking for a real 'local knowledge' ride, across the most interesting (and little-known) roads. Please tell us about a ride like that.


The Japanese love sakura (cherry blossom). It's the most significant sign of spring in Japan, when streets and parks are flooded with people enjoying hana-mi parties under the trees, welcoming the change in season and the feeling of renewal that it brings. It's the same when you're cycling in Tokyo as well, you can feel the change in the air, the smell of spring highlighted with the blossoming flowers. The sheer number of sakura trees in Tokyo is astonishing, the city is awash with pink at this time of year, and as I ride through the urban landscape I'm surrounded by this amazing but short lived sight. Chidori-ga-fuchi, the moat to the north of the Imperial Palace and Aoyama Cemetery are some of the most beautiful cherry blossom locations which I often ride through to sooth my mind during a busy day.
We're writing a short description of your city. What can't be missed from this description?


Tokyo is a city that is constantly rebuilding and has been destroyed more than once – from the Great Kantō earthquake of 1923 to the firebombing in World War II. But the structure of the roads, rivers, hills and railway lines have remained the same. The metropolitan area is made up of a collection of districts that each have their own unique characteristics. People's lives take root and become part of the character these areas, interconnected and supporting each other.